TemboSocial and Place & Co. Announce Exclusive Distribution Agreement for Australia and New Zealand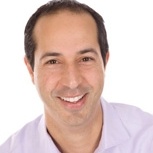 Sydney– August 22, 2019 - Place & Co. announced an exclusive distribution agreement with TemboSocial, a leading provider of employee engagement and recognition software. This relationship means we'll be working very closely with the TemboSocial team to identify new and exclusive ways to benefit Place & Co. customers. Our partnership will help customers leverage their Digital Workplace investment by driving sustained platform adoption and employee engagement.

TemboSocial solutions provide frictionless access for employees while ensuring data security for the company.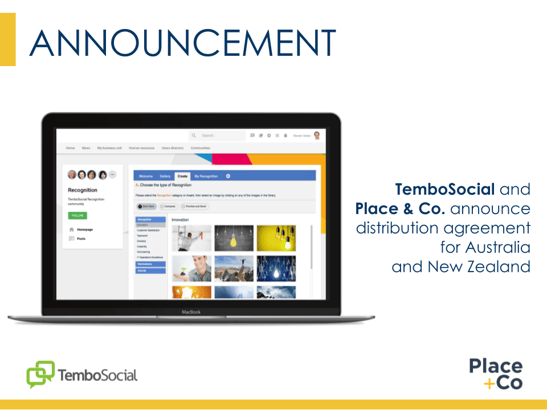 TemboSocial Employee Recognition
TemboSocial's Employee Recognition program lets you manage everyday recognition, awards, nominations, shortlisting and reporting directly inside your Digital Workplace for maximum visibility and impact.


TemboSocial Employee Feedback
TemboSocial Feedback is a complete toolkit including Forms, Surveys, Polls and Quizzes. Conduct daily pulses, deploy surveys, capture registrations and test knowledge with a single, modern solution that is secure and compliant for the enterprise.


"I am very pleased to announce our exclusive distribution partnership with Place & Co for Australia and New Zealand. Our success in this region will be greatly enhanced as a result of this partnership," said Steven Green, President at TemboSocial. "TemboSocial's deeply integrated solutions for employee feedback and recognition is an ideal extension to the digital workplace solutions Place & Co. advises its clients' on today. Our mutual goal of improving business results for enterprise customers are aligned as is our belief that low cost-of-ownership SaaS solutions help companies deliver impactful employee engagement and retention programs."
"At Place & Co. we strongly believe that employee engagement results in business value and active communities," said Benoit Rabreaud, Director at Place & Co. "By adding the solutions of TemboSocial to our portfolio we can further support and improve our clients and their online communities. Engaging employees with TemboSocial solutions is so easy and well-integrated that it brings a whole new array of use cases to community adoption and employee engagement."
About TemboSocial
TemboSocial's employee recognition and employee feedback solutions allow you to leverage your digital workplace investment with deeply integrated applications. By bringing key business processes such as enterprise recognition, idea collaboration, and employee feedback and pulses inside the Intranet, our clients are able to drive platform adoption, reduce risk and provide all lines of business with the modern tools they expect.
With more than 10 years of experience, and reaching over 1.000.000 employees each day, TemboSocial has been a strategic business partner for mid-size and enterprise companies such as Royal Bank of Canada (RBC), State Farm, New Relic, Tampa Bay Lightning, and Publicis Sapient.

About Place & Co.
Place & Co specializes in optimizing the Digital Workplace. We work with the best in class cloud solutions to create engaging and interactive digital workplaces, make critical processes more efficient and documents and assets more accessible.
Place & Co originated from 6 years experience as a Google partner in assisting large organizations in ANZ in their transformation to the Cloud, working with the likes of Snowy Hydro - Red Energy, Salmat, Air Liquide and Veolia.