Is Your Enterprise Awards Program Evolving With Your Workforce?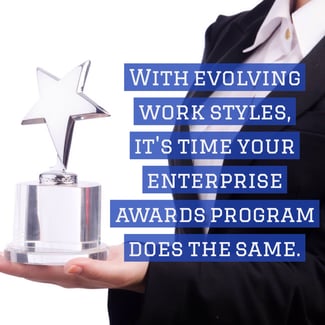 The growing frequency of work-from-home employees and globally distributed work teams means that it is unlikely a colleague will pass by your desk and notice that you were the recipient of the Vision in Action CEO award this year.

This begs the question; does it make sense that we invest so much in sustaining our awards programs (encouraging nominations, selecting the winners, hosting the gala, etc.), and yet so little is invested in the ongoing amplification of the awards and their recipients?

Let's face it, workforces and work styles have evolved dramatically over the years and it's time for awards programs to do the same.
A modern awards program allows an employee to build their personal brand within the organization ─ a social trophy case of sorts ─ where each employee can proudly display their formal awards and peer testimonials accumulated throughout their career.
So how does your organization improve your program?
We've broken it down into 5 key strategies in this brand new eBook. Discover the impact a modern awards program can contribute to your organization's performance, retention and customer satisfaction.